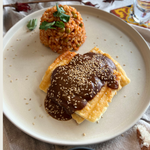 Mole Poblano is the ultimate signature of Mexican Cuisine. Mole's origin story is as complex as the sauce itself, and although there are different legends as to its origins, the most accepted is that Fray Bernardino of Sahagún whom in the book of "General History of the Things of New Spain", details his first encounter with the dish as that of an offering given to Moctezuma (Aztec Ruler of Tenochtitlan) in Mexico. 
Chimulli or chilemole comes from the word mulli which refers to a sauce; hence Mole. These sauces were offered to the gods during Prehispanic times as a thank you token after long trips.
All mole preparations come from a blend of variety of chili's: chili mulato, chili ancho, black chili pasilla and chili chipotle; as well as a mixture of nuts, fried garlic, pumpkin seeds, tomato paste, bread or tortilla and onions. It truly is a rich mixture of flavors and Mexican culinary heritage.
Mole can be eaten with Turkey (original recipe) or with a variety of meats (chicken, lamb, pork, beef) or even vegan options (vegan chicken, seitan based options, among others).
 At Mercado Amigo we offer Mole Xiqueño. We personally love enhancing the flavor & here is how to do it! 
Serves 6-8 people
1/2 Mole Xiqueño 500grms
10 Garlic Cloves (crushed)
1 Onion (diced)
Cinnamon, thyme, oregano, basil leaves (as much as you want, but preferably a pinch of each)
1 can of tomato paste
2 cups of chicken or vegetable broth
18 tortillas
2 cups of shredded chicken
In a pan add 2 tbsp's of olive/corn oil and add the chopped onions until light brown & add garlic for a minute or two at low temperature. Add tomato paste & 1 cup of chicken broth and let it cook at low temperature for around 20 min.
In a blender add previous mixture, seasonings (cinnamon, thyme, oregano & basil leaves) and mole. Blend until you have a smooth homogeneous mixture. Pour mixture into warm pot and add last cup of chicken broth. Leave mixture cook at very low temperature, stir occasionally, until you have a nice thick consistency (a bit thicker than gravy). 
Warm up tortillas on a pan or pan fry the tortillas, fill them with desired amount of shredded chicken (like a taco), serve on a plate and finally serve Mole on top! Last, but not least, add sour cream & fresh cheese on top for a hint of extra flavour!
I hope you enjoyed cooking and reading!
Buen provecho and until next time!