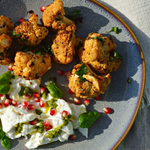 Everywhere we look it seems that more and more people are cooking with cauliflower, and no wonder, because it is not only a light & delicious option; it is versatile!
Below you will find the recipe for this amazing recipe! It is a clash of flavours and has a hint of spice that is compensated with the pesto and the pomegranate.
The combination is perfect for serving as an appetizer. It's colourful, elegant, fresh & delicious!
INGREDIENTS
2 Burrata cheeses
1 medium sized Cauliflower
1 teaspoon of Salsa Macha Morita Don Emilio
(or any other of the Don Emilio Salsas) (a) 
2 tbsp Olive Oil (b)
2 tsps White Vermouth (c)
1 tsp Soy Sauce (d)
Garlic Powder, Onion Powder, Herbs, Salt & Paprika to taste
(1 tsp recommended) (e)
1 tbs of Lemon Juice (f)
Lots of chopped herbs (basil and dill)
Pomegranate & Pine Nuts for garnishing
Pesto paste
PROCEDURE
Preheat oven to 180ºC 
Wash & separate cauliflower trees and set aside in an oven container.
Mix up ingredients (a-f) and drizzle on top of the cauliflower. Add 1/2 cup of water to the container, cover up and place it in the oven for 20 minutes. Take cauliflower out after 10 minutes and with a spoon pour mixture on top of cauliflower (re-moisturize) & place it back in the oven.
Once the cauliflower is cooked, uncover and cook in the oven for another 10 minutes or until slightly brown.
Serve on a plate, add chopped greens, set the burrata on the side and drizzle with a little bit of pesto and olive oil; & finally sprinkle pomegranate, pine nuts, basil leaves and pink salt.
Guten Appetit!
Buen Provecho!
Enjoy!