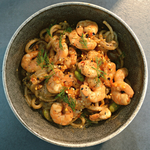 Spicy Peanuty Udon Shrimp! or Spicy Peanuty Shrimp Udon!

It is simply an explosion of flavour!

For this recipe shrimp was used, however, if you are vegan you can also use Tofu and still get the amazing flavour, as always, the sauce is always the secret weapon for every amazing pasta! From one Tofu lover to another, you have to try this!
INGREDIENTS
100 grms shrimp 
Udon Pasta (Hakubaku Organic Udon Noodles)
1 tsp Tahini, 1 tsp Peanut Butter
4 tbsp soy sauce, 200 ml water
Sesame oil to taste
1 tsp Tapioka starch
1 tsp Hot Spicy Garlic Don Emilio sauce
A pinch of Mix Chiltepín
Fresh edamames to taste 
Fresh dill to garnish 
Pepper to garnish
PROCEDURE
Prepare a pot with water, leave on stove and bring up to boil.
Place in a container soy sauce, water, tahini, peanut butter, sesame oil to taste, Tapioka starch & stir/mix until even.
Heat up a pan and place it on medium temperature, when warm add mixture and stir occasionally.
Add Udon pasta to your pot and cook till the noodle is firm, but soft; as the Italian's would say Al Dente!
Whilst Udon pasta is cooking, add shrimps to liquid mixture (semi-thick), and let them cook for around 5 minutes. When they are evenly pink, they are ready. 
An overcooked shrimp is always a tragedy, so keep an eye on them!
Take shrimp out of the sauce, add Spicy Garlic sauce to taste and set them aside.
Once the Udon Pasta is done, add to the mixture and stir evenly.
Serve Udon in a bowl, add shrimp on top and garnish with Mix Chiltepín and fresh dill.
Guten Appetit!
Buen Provecho!
Enjoy!